Read Related Legal Articles
How Much is My Dog Bite Case Worth?
Average Dog Bite Compensation:
The average settlement for a dog bite lawsuit is around $44,000. A successful dog bite lawsuit will compensate plaintiffs between $25,000 and $50,000.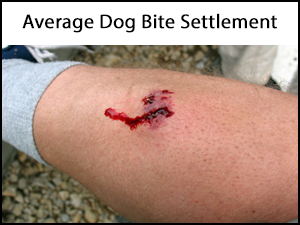 Unfortunately, dog attacks are on the rise as more than 4 million people are bitten each year in the United States. Dog bite victims have a number of avenues available to recoup the expenses and losses incurred after a dog attack. Assuming there is no question surrounding the responsible dog and owner, the victim need only prove one or more of the following four things to receive damages:
Medical bills
Lost income
Pain and suffering
Property damage
If the dog has a history of biting or attacking others, the victim may also be eligible to receive double or triple the compensatory damages. Additionally, punitive damages may be awarded as a punishment against the dog's owner.
Table of Contents
What are Compensatory Damages in a Dog Bite Case?
The most common damages claimed and awarded in a dog bite suit are medical bills. These may include doctor bills, medications, hospital admittance, plastic surgery, physical therapy, and possibly psychiatric care to treat issues such as posttraumatic stress disorder (especially in children). You can also claim lost income for work time lost during recovery and medical treatment, as well as lost future earnings if applicable.
Pain and suffering is more difficult to quantify; amounts vary tremendously depending on the type of bite, severity and nature of the wounds, and even which part of the country the attack occurred, as local laws vary greatly. Another possible claim is loss of services, which isn't necessarily economic-based. Husbands and wives can include loss of services; even parents can claim loss of companionship if their child is bit.
What are Punitive Damages in a Dog Bite Case?
Meant as a form of punishment, punitive damages are typically awarded for either repeat offenders (dogs who have attacked in the past) or for negligent behavior such as allowing a dog that is known to be dangerous to run loose. The deeper the pockets of the defendant, the greater the potential punitive award.
Sample Dog Bite Case Settlement Amounts
Dog bite cases vary widely, though the average settlement amount is $44,000. Following are some cases to give you a better idea of how drastically these amounts can vary.
In 2010, a police officer in Wisconsin was bitten while training a police dog and awarded $39,000 in an insurance settlement. In Washington, a woman lost her upper lip and suffered facial lacerations, tissue loss, and permanent scarring after being bitten in the face. The severity of her injuries resulted in a $100,000 settlement.
In 2013, a New Jersey man won a $563,000 judgment after being attacked by two dogs. In this suit, liability was shared between the dog's owner and the building's landlord, with 85 percent of the responsibility attributed to the dog's owner. The reason for such a hefty judgment was the nature of the attack, which left the victim in a coma-like state in the hospital for 10 days. The attack lasted nearly an hour and the victim's injuries covered most of his body.
A 2010 dog attack resulted in the death of a Washington man after his injury became infected. The victim's family hired an attorney who negotiated a $975,000 settlement from the dog's owner. The settlement amount was partly the result of the victim dying and partly due to the fact that the dog had a history of biting people.
Watch: Dog Bite Lawyer - 3 Things to Know About a Dog Bite Case
Watch this video to find out if you are entitled to compensation for your dog bite injury.
Should You Ever Settle in a Dog Bite Case?
If your injuries are relatively minor and your compensatory damages are low, pursuing a lawsuit is likely not in your best interest. Attorney fees add up to approximately 33 percent of your judgment, you must pay for expert witnesses to testify, and the case may take years to go to trial. What's more, if you win your suit, the case is nearly always appealed, which means a retrial. You may want to call an attorney, however, if your potential suit includes a large amount of medical bills, pain and suffering, or any other number of factors that complicate your case (such as an insurance company insisting on low-balling you).
If you decide to move forward with a lawsuit, contact a personal injury lawyer for a free consultation. He or she can advise you on the merits of your case and how to proceed.
Resources:
Find Top Dog Bite Attorneys and Get a Free Case Review >>